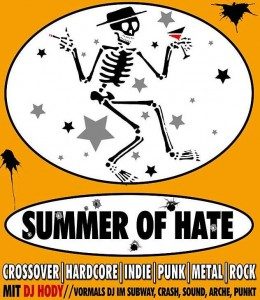 Gestern Abend habe ich mir nach 1988 zum zweiten Mal Mucky Pup angesehen – sie sind kein bißchen schlechter geworden. War ein sehr unterhaltsames Konzert und hat mich daran erinnert, dass ich Euch noch meine letzte Playlist schulde, denn am Freitag werde ich schon wieder eine neue spielen dürfen….
So hier die Kiste bunter Melodien die wir gestern ausgepackt haben:

1 Die Toten Hosen Bayern

2 The Adicts You'll never walk alone

3 Molotov Gimme Tha Power

4 Nickelback Rockstar

5 Metallica Whiskey In The Jar

6 Megadeth Anarchy In The U.K.

7 7 Seconds Wartime

8 Biohazard Vengeance Is Mine

9 Sick of It All Step Down

10 Gumbles maximum Oipunk Rock'n'roll

11 Pöbel & Gesocks El Zecho

12 AC/DC You Shook Me All Night Long

13 Monster Magnet Space Lord

14 Led Zeppelin Good Times Bad Times

15 Lordi Hard Rock Hallelujah

16 Marilyn Manson The Beautiful People

17 Bile ura f**king loser

18 Resident Evil Soundtrack Slipknot / My Plague

19 Obituary Find The Arise

20 Killing Joke Love Like Blood

21 System Of A Down Chop Suey!

22 Daily Terror Kleine Biere

23 SLIME Störtebecker

24 Agnostic Front For My Family

25 Madball Down by Law

26 Cro-Mags We Gotta Know

27 Misfits Vampira

28 Ramones I Wanna Be Sedated

29 Kiss I Was Made For Lovin' You

30 Steppenwolf Born To Be Wild

31 Tenacious D Tribute

32 Guns N' Roses November Rain

33 Böhse Onkelz Nichts Ist für Die Ewigkeit

34 Iron Maiden Aces High

35 Accused Grinning (Like An Undertaker)

36 Blur Song 2

37 Strife Through and Through

38 Biohazard Hold My Own

39 Monster Voodoo Machine Bastard Is As Bastard Does

40 Nine Inch Nails Wish

41 Fear Factory Linchpin

42 Black Sabbath Paranoid

43 AC/DC Dirty Deeds (Done Dirt Cheap)

44 Scorpions Rock You Like A Hurricane

45 Judas Priest You've Got Another Thing Coming

46 Böhse Onkelz Erinnerungen [Live in Berlin Juni 2000]

47 Evanescence Call Me When You're Sober

48 Apocalyptica feat. Marta Wie Weit

49 Motorhead Ace of Spades

50 Sex Pistols God Save The Queen

51 Rancid Time Bomb

52 The Exploited dogs of war

53 Accept Balls To The Wall

54 Powerwolf All We Need is Blood

55 Blind Guardian Valhalla

56 Overkill In Union We Stand

57 Slayer Mandatory Suicide

58 Ministry Jesus Built My Hotrod

59 Puddle Of Mudd She Hates Me

60 Pink Floyd Another Brick In The Wall

61 Mucky Pup Hippies Hate Water

62 NOFX Don't Call Me White

63 Papa Roach She Loves Me Not

64 Manowar Fighting The World

65 Wizo Weiter

66 Papa Roach She Loves Me Not

67 Korn Blind

68 Def Leppard Foolin'

69 Ozzy Osbourne Crazy Train

70 Deep Purple Child In Time

71 Exhorder Into The Void

72 Queens of the Stone Age No One Knows

73 Ten Masked Men Livin La Vida Loca

74 Raggadeath Electric Avenue

75 Korn Another Brick In The Wall

76 H-Blockx Celebrate youth

77 Johnny Cash Hurt (Nine Inch Nails)
Für jeden was dabei denke ich oder?